STEWARDSHIP
Being good stewards is fundamental to the pursuit of our mission.
Stewardship at Crescent Communities
Being good stewards is fundamental to our mission to build community and better people's lives. We strive to make decisions that address current and future challenges and to improve continuously in order to have a positive impact on the planet, the people, and the places we build and call home. We hold ourselves accountable through regular evaluation of our practices and ongoing measurement.  Our goal is to ensure that the communities under our stewardship flourish for years to come. We seek to create legacies, the value of which build with time.
Four Pillars of Stewardship
We seek opportunities to create impact in areas where these four pillars unite, and where we can best serve as stewards of the people, the planet, and the places where we live, work, and play.
Environment
To build prosperous, healthy communities within the ecological limits of our planet, it's essential to tackle climate change with disciplined and thoughtful development. To this end, we've adopted environmental sustainability principles,  practices and processes to both sustain the environment and support thriving economies. It's our hope to inspire our colleagues, residents, tenants and the broader development community to make positive changes that enable ecosystems to flourish.
Community
To help us all be a part of something greater, we seek to build a more diverse, equitable and inclusive community for our colleagues, partners, customers and neighbors. By providing opportunities for all, we allow productive communities to form and flourish and help generate economic success.
Resiliency
Focusing on resiliency ensures we seed communities that continue to thrive long after our involvement ends. The cultivation of diverse yet synergistic lines of business supports a strategy that's both robust and sustainable.
Wellness
When we design communities where healthy choices are easy to make, we support the physical and emotional well-being of every person who lives, works and plays there. It's our goal for the places we create to become catalysts for a healthier, happier lifestyle for our residents, tenants and greater community.
PARTNERING TO SUPPORT OUR FUTURE
Berryhill School
Charlotte-Mecklenburg County's school district includes a number of schools with students living in poverty. Berryhill School, a Title I school serving students from kindergarten through grade eight, is one of them. But it is also a standout, with top-notch teachers and dedicated staff working tirelessly to provide their students with resources and opportunities. When Crescent Communities learned about the inspirational work being done at the school, we reached out to learn how we could get involved.
The Crescent Communities team has partnered with Berryhill School in a variety of ways, including reading with students, filling backpacks with school supplies, and providing a complete overhaul to the landscaping surrounding the building. We see great potential in the students and staff at Berryhill School and look forward to continuing to create impact in our local community through this meaningful partnership.
TREE FOR A KEY
TreesCharlotte
Trees are the lifeblood of our communities, providing shade, oxygen, protection from wind and noise, food and shelter for wildlife, filtering stormwater, reducing energy consumption, increasing home values, and offsetting carbon emissions. While we strive to make business decisions that have a minimal environmental impact, Crescent Communities understands that the real estate development process can put our green space and tree canopy at risk.
Understanding the importance of a strong urban canopy, Crescent Communities actively supports organizations across the country that work to ensure that all residents have access to the health and environmental benefits that trees provide. More information on our partners coming soon! 
MULTIFAMILY DEVELOPERS BUILD
Habitat for Humanity
The Crescent Communities team gives time and energy to Habitat for Humanity in several of the markets where we have offices. For the third year, our multifamily team recently organized the Habitat for Humanity Charlotte Multifamily Developers Build. Through this program, 15 Charlotte-area multifamily developers and partners teamed up with Habitat for Humanity Charlotte to fund and build a new house on Millhaven Lane in North Charlotte.
The challenges of affordable housing can only be addressed if approached from many angles. This is an important initiative to the Crescent Communities team, and we will continue to seek opportunities where we can best serve our communities in addressing the need for affordable housing.
LEED & NGBS Certifications
Building Green
The built environment offers a significant opportunity to make meaningful change when it comes to our overall environmental impact. By building more efficiently, we can effect positive change regarding energy consumption, water use, and waste reduction. 
To identify areas for improvement, we must measure our actions. Since 2014, each of our multifamily communities have been certified (or are pursuing certification) under either the National Green Building Standard (NGBS) or Leadership in Energy and Environmental Design (LEED), and nearly all of our commercial communities are LEED certified.
Building Inclusive Communities at The River District
Affordable Housing
We believe that everyone has the right to safe and comfortable housing. Access to affordable housing is the key to reducing economic disparity, but creating affordable housing continues to be a challenge in many of the areas where we build due to a variety of factors, including the cost of land. To this end, in the fall of 2018, Crescent Communities announced the donation of 4.5 acres of land in The River District to the Foundation for the Carolinas for the construction of affordable housing. The gift, valued at $2 million, is the first of its kind as part of the Foundation led effort to raise funds from the private sector to address Charlotte's affordable housing crisis. Charlotte-based developer, Laurel Street Partners, will create a 124-unit mixed-income housing community on this land.
Back-To-School Supply Drive
Supporting Education
While Crescent Communities supports back-to-school efforts for those in need through an annual supply drive, this year, we were presented with a unique opportunity to make a HUGE impact in a more direct way. The Crescent Communities team provided backpacks stocked with all essential school supplies for 128 Charlotte-are students housed with Supportive Housing Communities. While this organization supplies immediate housing for our very vulnerable homeless population, they also extend their wrap-around services to families in need of housing and support.
The Crescent Communities CARES team set up an online wish-list, allowing team members from across the country to contribute supplies from their home offices. Through the overwhelming generosity of the team paired with the support of Crescent Communities, these students will have the physical resources they need to learn - whether from home or in the classroom. Read more HERE. 
Trees4Trash Planting Event
NC Wildlife Federation
Although the event was originally scheduled for April in honor of the 50th Anniversary of Earth Day, the Crescent Communities CARES team gathered with the North Carolina Wildlife Federation in October 2020 for the rescheduled event! The goal of the day was to plant trees and collect trash in support of the NCWF Trees4Trash Program, through which 1 tree is planted for every 25 pounds of trash that is removed from the environment. The CARES team planted 30 trees along the Irwin Creek Greenway and removed plastics and other trash along the way on a very warm fall day.
Trees4Trash is incredibly important because wildlife suffer in many ways from our plastic refuse through suffocation, poisoning and ingestion. If we remove these plastic items before they make it into the waters, we are protecting both the terrestrial and aquatic species from this harmful trash.
NOVEL Cary Team
Adopt a Spot
The NOVEL Cary Construction Team took part in the Town of Cary "Adopt A Spot" Program. We collected trash from areas near the Novel Cary project site and along Highway 55 to reduce our environmental impact and create a more welcoming community!
Critical Home Repair Program
Habitat for Humanity
Colleagues of Crescent Communities partnered with Habitat for Humanity of Greater Charlotte to manage the painting shifts on four homes in the Critical Home Repair program. This important service provides comprehensive repairs designed to eradicate problems and extend the functional life of a home. In addition, it allows the owners to age in place in the safety and security of their own home.
Invasive Species and Trash Removal
Catawba Land Conservancy
Crescent Communities partnered with the Catawba Lands Conservancy to enhance conserved land within The River District in West Charlotte. The team removed invasive plant species and collected trash and debris in order to allow native plants to flourish and to support a thriving native ecosystem.
Supporting Those in Need
Second Harvest Food Bank
Colleagues of Crescent Communities volunteered at Second Harvest Food Bank of Metrolina as part of Second Harvest's 40 volunteer projects in 40 days to celebrate their 40th birthday. The team packed 700 food bags to be donated to those in need in the Charlotte area. We're grateful for a continued partnership with this organization whose impact has touched the lives of so many in our area.
Planting Trees in Tennessee
Nashville Tree Foundation
Our team enjoyed volunteering with the Nashville Tree Foundation for our first tree planting event with the organization. We're proud to provide volunteer opportunities for our employees and neighbors through our Tree for a Key initiative by actively building relationships across the country with organizations that work to ensure that all residents have access to the health and environmental benefits that trees provide.
Mile High Tree Champions Planting in Denver
The Park People
Our team was honored to participate in the Mile High Tree Champions initiative through The Park People of Denver for our first planting event with the organization. We're proud to provide volunteer opportunities for our employees and neighbors through our Tree for a Key initiative to ensure that all residents have access to the health and environmental benefits that trees provide.
COMMUNITY PARTNERS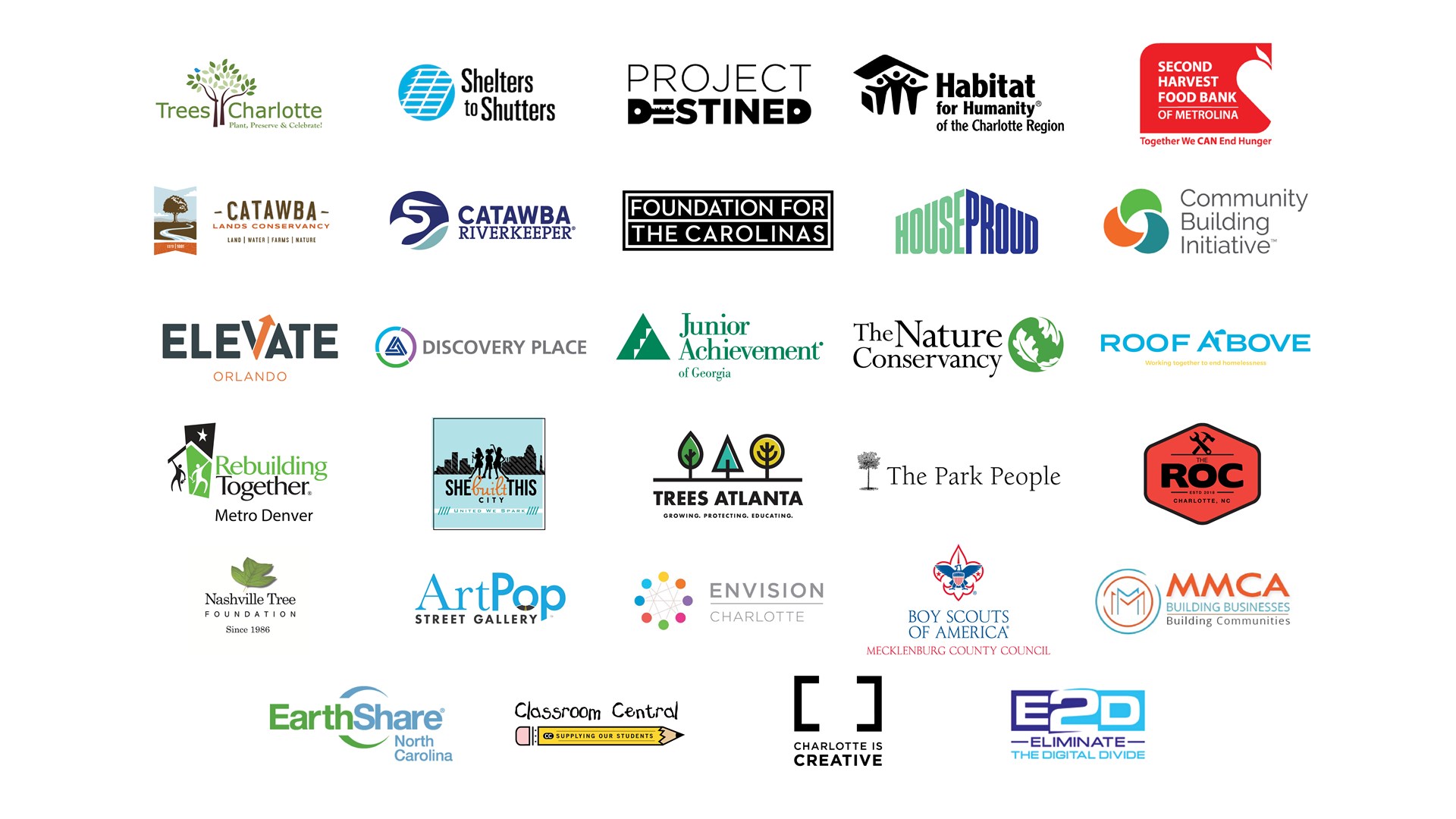 STATEMENT OF STEWARDSHIP
Past Editions